The rehearsal dinner of a wedding is often just as special as the main event. It's a chance for the couple to welcome out-of-town guests and set the tone for the celebration. Here in North Jersey, there's a venue for every type of couple, diet, and vibe. From a gluten-free menu to incredible views of Manhattan, we've got it all. The Montclair Girl has compiled a list for you of some of the best spots in North Jersey that offer private or semi-private rooms. Read on for a guide to rehearsal dinner spots in North Jersey.

Alice's | 24 Nolan's Point Park Road, Lake Hopatcong
For someone who loves nature, Alice's is a great spot for a rehearsal dinner. Located along Lake Hopatcong this venue offers a stunning view of the lake and the natural beauty of the region. Serving New American cuisine and featuring chic and rustic decor, this venue can accommodate between 55 and 77 people depending on which portion of the restaurant you'd like to reserve. A sample of the event menu can be found here.
Bistro d'Azur | 14 Academy Street, South Orange
View this post on Instagram
Bistro d'Azur offers French Mediterranean-inspired cuisine in the heart of South Orange. The interior of this venue offers a sophisticated feel with eclectic artwork and details. Up to 50 people can be accommodated at this location. A 3D walkthrough of the restaurant can be seen here. 
For the couple who are history buffs, Bloomfield Steak and Seafood House might just be the number one pick for their rehearsal dinner. Also known as the Old Joseph Davis House, this home predates the United States and even offered George Washington a place to eat. Bloomfield Steak and Seafood House recommends visiting the Bloomfield location and speaking with Nicole, Frankie, Andrea, or Alhaji about scheduling a rehearsal dinner and planning your menu. The private event menu can be seen here.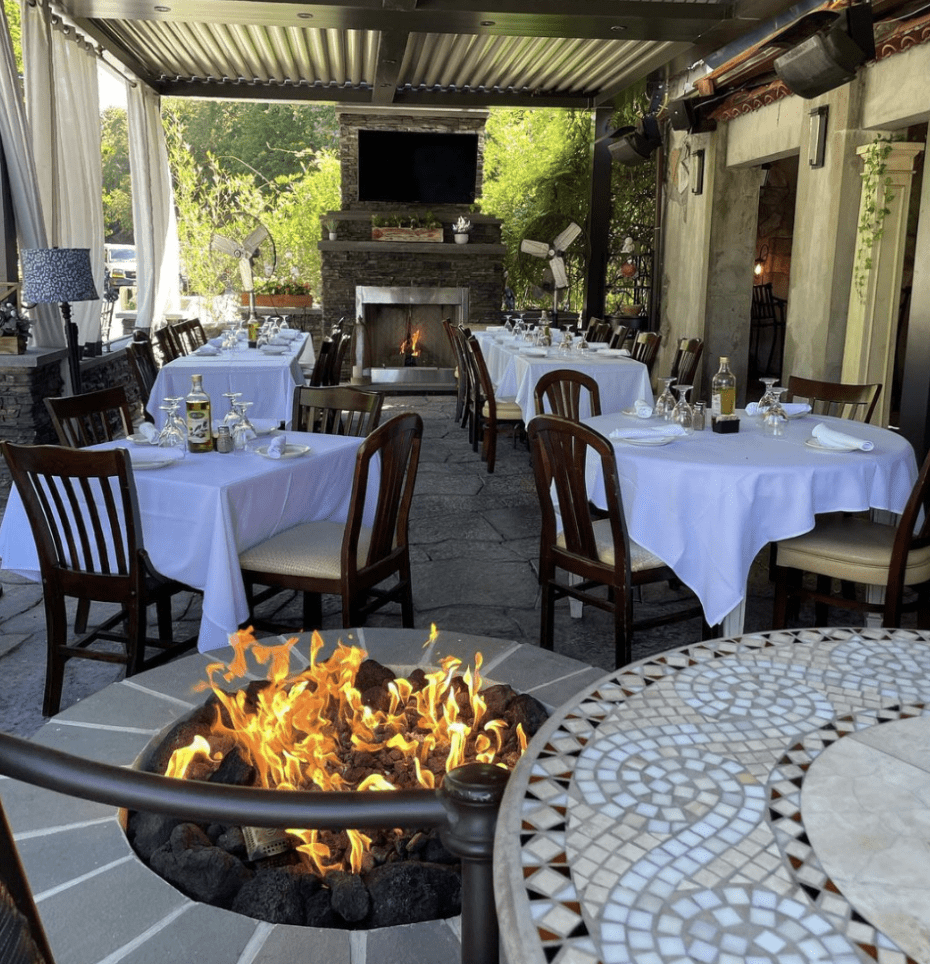 Calandra's is known for so many things, it also has private event space. This enclosed space is intimate and almost feels like it belongs in an Italian countryside villa. You and your partner can enjoy fresh Italian food and desserts alongside 28 other guests. 
Chart House | Lincoln Harbor Pier D-T, Weehawken
View this post on Instagram
A view of Manhattan, especially from the Garden State, is ever so wonderful. Making it the backdrop of the rehearsal dinner makes for an epic night.  The Chart House in Weehawken is right on the Hudson River and offers an immaculate view of New York City. It can accommodate between 30 and 300 people for private events. 
View this post on Instagram
Frank Anthony's Gourmet Italian has both indoor and outdoor seating for private events. It offers two levels of packages to choose from and a variety of appetizers, salads, and entrees. As always, we must suggest the fried calamari. The outside seating is unique as it can also be converted into indoor dining. Parking is limited, but side street parking is available. 
View this post on Instagram
Montclair's Fresco da Franco provides space for rehearsal dinners and can accommodate up to 100 guests. Since 2012, this spacious restaurant has served classic Italian fare like Chicken Marsala, Branzino, and Affogato which can all be enjoyed by guests. An example of the private dining + events package and pricing can be found here.
The Highlawn | 1 Crest Drive, West Orange
If you're looking for an elevated spot with New York City views, The Highlawn in West Orange is your spot. Newly renovated this year with a new menu, The Highlawn serves an upscale selection of appetizers, seafood (hello, seafood tower), meat dishes, and pastas, among other items. This spot is pretty popular for weddings, but hosts a variety of other events too. For larger parties, the Skyline Ballroom seats 150 guests and overlooks the Eagle Rock Reservation. If you're having a more intimate rehearsal dinner, the Wine Cellar seats 15-60 guests in a cozy, underground cavern. Learn more about The Highlawn's private events here.
Lithos Estiatorio | 405 Eisenhower Parkway, Livingston
Lithos Estiatorio offers an unforgettable Greek and Mediterranean dining experience and can accommodate between 10 and 100 guests. Check out the menu here.
View this post on Instagram
Located within the South Mountain Reservation and with stunning views of the Orange Reservoir, McLoone's Boathouse is a memorable location for a rehearsal dinner. Not only does this venue have ample parking, but up to 500 guests can be accommodated here. McLoone's Boathouse offers both indoor and outdoor seating and a pre-fixe menu for events. Menu options include Stuffed Eggplant, Seared Salmon, Short Rib, and more. The full menu can be found here.
Porta | 135 Newark Avenue, Jersey City + 499 Bloomfield Avenue, Montclair
View this post on Instagram
There is something truly special about a long table surrounded by freshly cooked food and surrounded by the ones that matter most. Porta aims to provide a warm and welcoming environment that caters to family first. The venue can accommodate between 20 and 35 people and serve them some of the best Italian food there is. The menu for private events at the Montclair location can be viewed here and for the Jersey City location, here.
Read More: These Restaurants + Bars in Montclair Will Wow Your Visitors
Sabor Peru | 373 Bloomfield Avenue, Caldwell
Sabor Peru in Caldwell has one of the best restaurant interiors North Jersey has to offer. Open from Wednesday to Sunday, this spot offers a variety of Peruvian dishes from ceviche to empanadas. A popular spot for birthday celebrations and bridal showers alike, Sabor Peru is perfect for a rehearsal dinner.
Samba | 7 Park Street, Montclair
Samba brings the flavors and spice of Brazil to Montclair. This Park Street spot is also gluten-free and the perfect spot for the happy couple if either of them is gluten-free. Samba offers inside and outside dining, both of which have fantastic decor. Reservations for up to 20 people can be made. 
See More: A List of Hoboken Wedding Venues + Spaces for Every Style
Saveur Creole | 131 Grove Street, Montclair
Montclair's Saveur Creole is a fine-dining restaurant offering Haitian and Caribbean-inspired cuisine. The menu features a variety of savory dishes like Chicken Etoufée, Pasta Créole Chicken and Shrimp, and Jerk Chicken Salad. Saveur Creole can accommodate groups of 10 or more. Large parties are asked to fill out a reservation request form which can be found here.
View this post on Instagram
South + Pine offers a variety of dishes using the freshest local ingredients and changes its dishes seasonally. The restaurant sources its chicken, pork, beef, and lamb from a small farm in central Pennsylvania and eggs from Schwenksville, PA. The dairy comes from Fulper's Family Farmstead in Lambertville, NJ, the fish from Peter's Fish Market, and the produce from Harvest Drop. Dishes here include Corn Empanadas, Grilled Swordfish, Profiteroles, and Prawns. This venue's kitchen space can accommodate 26 people and the entire restaurant can accommodate up to 60.
Since 2022, Swahili Village has been serving up Kenyan and African cuisine. Dishes here include Lambs Chops, Samakia Filet, Samosas, Grilled Goat, and more. This venue offers reservations for up to 20 guests.
The Barrow House | 1296 Van Houten Avenue, Clifton
View this post on Instagram
The Barrow House is a rustic Colonial American farmhouse restaurant with seven rooms available for private rentals. The Barn can fit up to 45-55 people depending on if you prefer a sit-down dinner or cocktail hour. The Game Room can fit up to 28 people and The Study Parlor, a Victorian-inspired room can fit up to 30. The Root Cellar might just be the best of them all. This space is home to The Barrow House's collection of curated wine and can accommodate up to 18 guests. This room is intimate and feels like it's part of someone's home. 
The Feathered Fox | 550 West Mount Pleasant Avenue Unit 1608, Livingston
View this post on Instagram
Livingston's The Feathered Fox is a steakhouse offering room or venue rentals for a variety of events. The interior of the venue is a mixture of rustic and industrial and offers a variety of colors that make the space pop. Their Meadow Room is a soundproof room with dining space that can fit up to 14 people. The entire space can be booked for a group of up to 100 people. 
The Parkside Social offers a private dining room, seasonal backyard patio, or full restaurant buyout. The private dining and events menu can be seen here. A 3D walkthrough of the restaurant can be seen here.