Whether you are picking up doughnuts and danish for the office or meeting up for a glass of wine with that special someone, Calandra's Italian Village always has something enticing on the menu. From authentic Italian treats to fresh pasta, this little piece of Italy — which is actually located at 234 Bloomfield Avenue in Caldwell — has established a legacy of delicious food and excellent service. Keep reading to learn more about the family behind the business + everything there is to enjoy at Calandra's Italian Village.
Fresh Italian Pastries + Bread
Each day, Calandra's Bakery creates an entire line of baked products including fresh bread, desserts, pastries, pies, cakes, and cookies. Frequent flavors to grace the menu include: cherry cheesecake, blueberry cheesecake, and carrot cake. You can also pick up classic Italian desserts like Napoleon cake slices, cannoli, and Pignoli tarts.
The shop also has espresso, cappuccino, American coffee, and tea to help kick off your morning. Hot bread is served every hour throughout the day making Calandra's Bakery a go-to place morning, noon, and night.
Dining at Calandra's Italian Village
With multiple spaces and both indoor + outdoor dining options, Calandra's Italian Village is great for date nights, a corporate dinner, or even a wedding rehearsal dinner. Between a deli + market, cafe, and fireside dining, there is a setting for every event at Calandra's.
Weekly special events at Il Vecchio Cafe + Cucina Calandra include Pasta Night on Tuesdays, which gives customers 50% off select pasta dishes and 50% off bottled Calandra Family wines — all by the glowing fire pit, which is perfect for cozy nights out. A few pasta dishes include bucatini with lemon, gnocchi + salmon in a cream sauce, and rigatoni pasta with crumbled sausage in a pink cream sauce. On the weekends, don't miss out on Sunday Brunch with a mouthwatering menu of brioche stuffed french toast, eggs benedict, and freshly made omelettes — all accompanied by live jazz music.
La Taverna Bar + Lounge is the perfect atmosphere for upscale dining in Caldwell. Happy Hour is every Monday from 4:30PM to closing and then Tuesday through Friday from 4:30PM to 6:30PM. On many Friday and Saturday evenings, the restaurant features live entertainment.
Calandra's Market + Deli is a go-to for lunch and dinner with a variety of Italian specialty items like fresh mozzarella, hot + sweet Italian sausage, fresh cheeses, and Thumann's deli-sliced cold cuts by the pound.
Handcrafted gelato is made fresh at La Gelateria in Calandra's Italian Village. Using fresh milk, cream, sugars, fruit purees + nuts, Calandra's gelato is as authentic as it gets.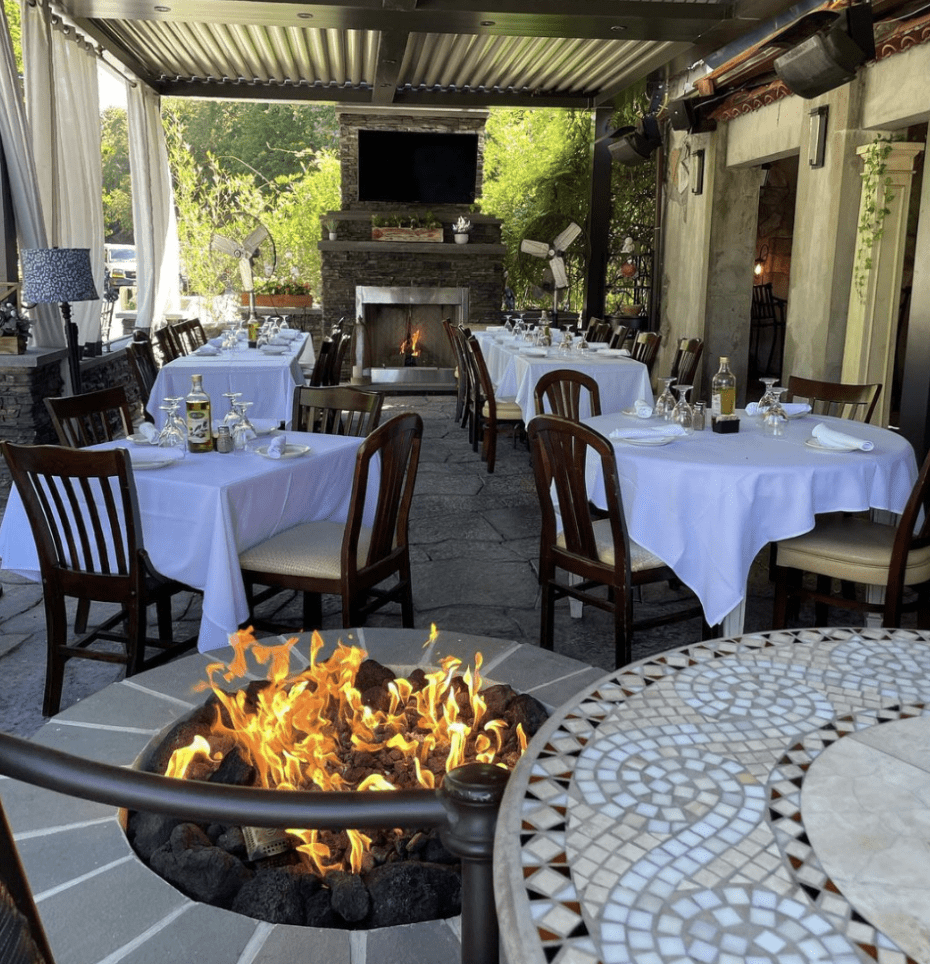 The History of Calandra's Bakery
Luciano Calandra, an Italian immigrant, had been in America for just five years when he went into business for himself and opened a small Italian and French bakery at 204 First Avenue in Newark. Mr. Calandra and his wife, Ortenza, worked hard day and night— and their bakery quickly developed a reputation for producing warm, crackling bread. Once the bakery took off, Mr. and Mrs. Calandra's two sons, Anthony and Luciano Jr., joined in on the family business.
Today, the Calandra family including third generation members Tom, Kristin, and Luciano Calandra, owns and operates two other bakeries — which are located in Fairfield and Caldwell. The recipe for Calandra's homemade bread uses only four ingredients and hasn't changed in over 60 years. These bakeries deliver products to more than 500 supermarkets, delis, and restaurants in the tri-state area. The Calandra family produces and sells their own line of olive oil, coffee, fresh pasta, homemade sauces, and wines from their vineyard in Italy. Additionally, the Calandras own and operate several hotels, restaurants, + apartment buildings in Northern New Jersey.
While much has changed since the original bakery's opening in 1962, two things remain the same: Calandra's Bakery is still synonymous with delicious bread, and the family remains driven by hard work and a focus on customer service.
Calandra's Italian Village is located at 234 Bloomfield Avenue in Caldwell — with two other locations at 244 US Highway 46 East in Fairfield and at 204 First Avenue in Newark. Call 973-226-8889 or email aserpico.calandras@gmail.com for reservations.