Rabble Rise Doughnuts, which was previously Montclair Bread company, has done quite well for itself. In fact, Montclair Bread Company once drew a crowd from all over New Jersey — and it's now doing so under the new name of Rabble Rise Doughnuts which, as the name implies, is a store that now focuses only on doughnuts. Ever since Rachel Wyman took over ownership of the popular Walnut Street spot in 2012, she's made quite a name for herself and her baked goods. Rachel Wyman has, arguably, one of the best jobs out there. She is the owner and doughnut creator of both Montclair Bread Co and now Rabble Rise. Read on for Montclair Girl's interview with Rachel Wyman to learn more about the mastermind behind Rabble Rise Doughnuts, the cookbook she's launching, and the experiences that contributed to her success with Montclair Bread Co.
Montclair Girl: First of all, you have just absolutely crushed it in the baking world. What made you want to become a baker in the first place?
Rachel Wyman: My grandmother made wedding cakes for a living and I stayed with her when I was little. She would give me a paper plate and a bag of buttercream to decorate the plate like a cake so it's always been part of my life! I didn't consider it as a career until I was in college at the University of Florida and I baked and sold cookies and brownies to people on campus to pay my rent.
MG: Are you from Montclair? Where did you grow up?
RW: I grew up in Chestertown, Maryland on the Chesapeake Bay, a very rural area. I had 80 people in my graduating class! My hometown was very conservative and it was pretty judgmental and not very diverse. So for me, the reason I came to Montclair was to raise my children in a diverse community because that's what I did not have myself.
MG: Probably something we're most interested in learning… how does one become a doughnut creator??
RW: There was nothing crusty or European-style in Montclair when I graduated from the Culinary Institute and I wasn't getting a ton of attention doing the bread. On Sunday mornings my friend and I would be in the bakery alone baking and it was so dead. Like, 30 customers a day dead. So, we would just make each other breakfast and one day she asked me to make doughnuts. We made 3 dozen doughnuts that Sunday, ate half of them ourselves, and sold the rest in a split second.
MG: Your doughnuts are true masterpieces. How do you come up with new flavors and creations? Where does your inspiration come from?
RW: I really like to eat! A lot of it comes from craving. I'm very inspired by seasonality so that could be something that's currently at its peak in the growing season or it could be a time of the year with certain holidays like St. Patrick's Day coming up, for example. From there it becomes a collaboration, which is a team effort. My team stands around a table and throws all of their ideas out there to determine new flavors. Then finally, we figure out how we can build them so that every bite is amazing. For example, if you have a ring doughnut with a hole in the center and everything on one side, you don't get the flavors in every bite. We ask ourselves how we can sprinkle ingredients or layer flavors so that in every bite you're getting not just the dough but all of the flavors along with it.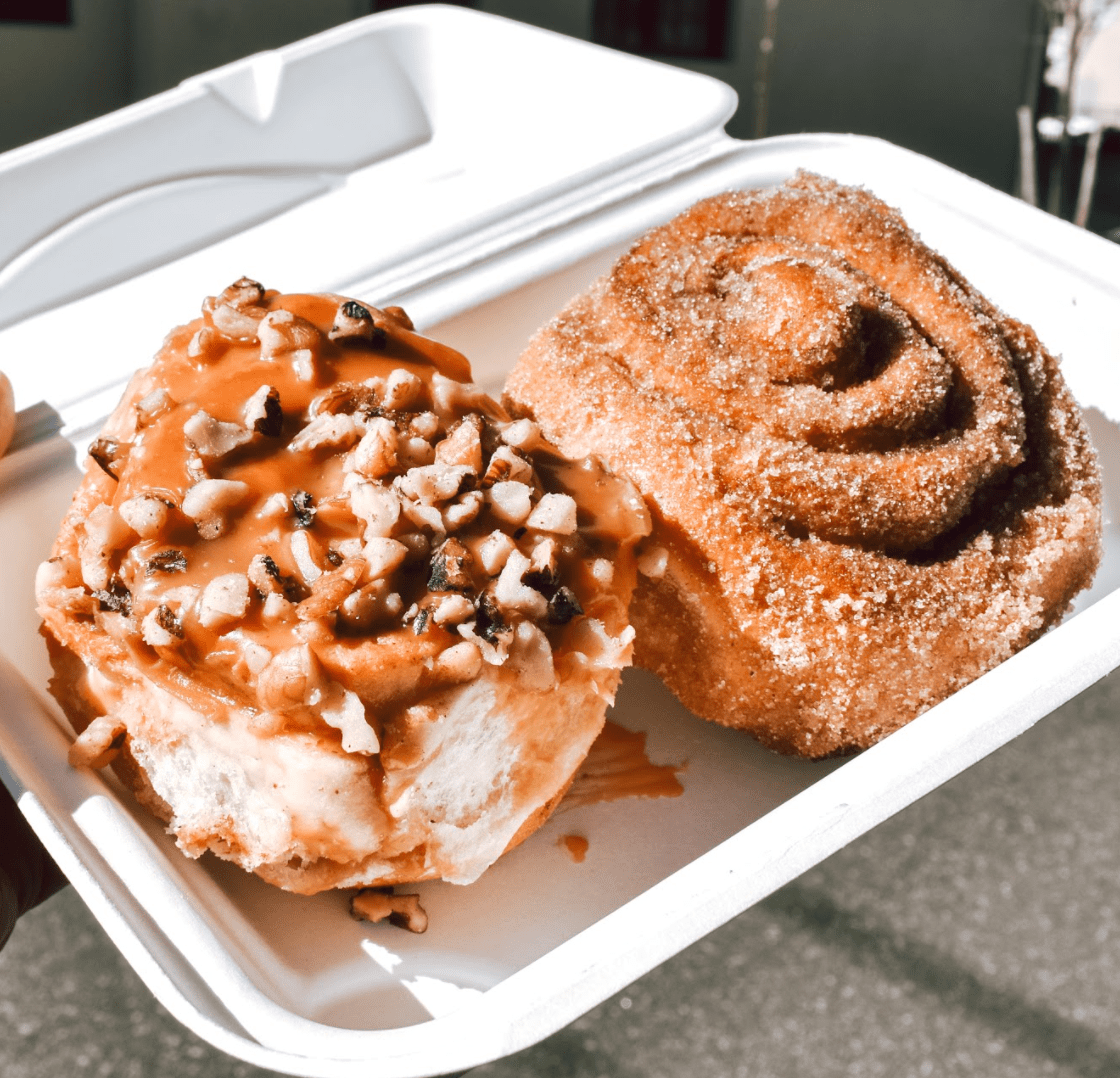 MG: Wow, so there's a lot more planning to that than meets the eye. Some of the flavors you come up with are so out of the left-field but work SO well. What is your favorite doughnut flavor you've ever created? 
RW: My favorites are the really plain stuff. The plain glazed, honey glazed crullers, the super simple are my true favorites. I think it really shows off the complexity of the dough. Being able to nail the sour doughnut made with flour, salt, water, and coconut palm sugar (no refined sugar, and also vegan) is a big win for me. The carrot cake doughnut is my favorite though: brioche dough, fresh carrot juice, grated carrots, cream cheese glaze, and baked layers of my grandmother's carrot cake sprinkled on top.
MG: So now that we know your favorites, are there any flavors you've created that you weren't a huge fan of or that didn't sell so well in the shop?
RW: Orange creamsicle was a huge flop. That was part of a whole soda fountain menu we did and while our banana split donut was beautiful, that was a flop as well.
MG: When cooking or baking for yourself, what is your go-to meal or recipe? Do you indulge in the bread as much as we would expect, given the fact that you're surrounded by them constantly?
RW: I survive on rice bowls. Brown rice and whatever veggies we have that are normally in season, a protein, and then everyone gets to make their own. I eat a lot of bread and the bread I make are all made with good flour and whole grains and long fermentation times, everything that your body really needs. I'm still training for triathlons so for me, carbs are essential in my diet and I really value those elements.
Read More: Montclair Designer Gives Back for Women's History Month
MG: You have quite the impressive resume between winning Food Network's Donut Showdown to being named one of the Top 25 most influential bakers in the U.S. by Bake Magazine. What is your proudest moment or accomplishment in your career thus far?
RW: The New York Times wrote a profile about me and the bakery and that was definitely a dream come true. I would have said that was the end all be all but I got a book deal and had a book published in September so being able to write and use my words, which is something I value in addition to baking, is amazing.
MG: Can you tell us a little bit about the book and what the process was like in getting that published?
RW: I was in a near-fatal bike accident almost four years ago this August. I was training for an ironman triathlon and I was biking when someone opened their door and hit me. I shattered my pelvis among other injuries. I couldn't walk and I couldn't sleep because the pain was tremendous for so many months so I wrote. I had a weekly blog where I wrote updates about my recovery and about the process of getting back on my feet for a whole year. I wrote every single day and during that, many people reached out and said I should publish a memoir. I worked on a proposal for a memoir with recipes and I pitched that. I had an agent reach out and take me on as her client and I ultimately reshuffled it to be a cookbook with essays. It kind of got tabled and wasn't gaining any traction in the publishing world until one day when I shared a recipe for a chocolate cake on my Instagraminstagram. Schools had just been shut down due to the pandemic and I said I would share a recipe every day while the kids were home from school (thinking it was going to be a two-week thing, tops). The publisher came back after seeing the traction this was gaining in the community and offered me a deal while also giving my partner the exclusive rights to photography for the book.
MG: That's incredible that from such a traumatic experience, this wonderful opportunity was born. The pandemic has of course caused many small businesses to have to pivot their business plan. Can you explain how you were able to keep your business thriving and glimmer of hope for residents during this past couple years?
RW: I'm a mom, I live literally across the street from the bakery and I have three kids in the public schools that I'm raising on my own. I need the same things everybody else needs so pivoting the business was just a matter of figuring out what I needed that I couldn't get from the normal channels and then offering that to everyone else. I had no problem getting supplies from my vendors that people weren't able to get from the grocery store so it was being able to figure out how to package and supply it to the community. There was no business alliance in the state that was giving us a heads up before Governor Murphy so I was hearing everything at the same time everyone else was. With the distancing, we were able to put orders outside on our huge patio. We had a meeting very early on and I told my team my plan to keep baking even if I was going to be baking by myself. I told them if they were not comfortable coming into work, they would of course still have a job here but if you are comfortable we're going to keep going and everyone was more than willing to keep coming into work.
See More: New to the Montclair Spa Scene: SKN Specializes in Facials, Massages, + More
MG: What made you decide to pivot to an entirely new brand with Rabble Rise Doughnuts? 
RW: I've baked bread, innovated with bread, and developed bread recipes for most of my career  — and indeed life. But the pandemic gave me time to reflect. And I realized that my heart had been stolen by doughnuts. They allow me to flex my creativity, innovate, scale up and expand. I love playing a role in bringing people together, being a small but energetic catalyst for fun, boundary pushing, baking, fitness. To me, doughnuts are mini connectors, little party animals, door openers and heart melters. I realized that all my tomorrows lay in the lap of doughnuts!
To learn more about Rabble Rise Doughnuts, click here.