In New Jersey, Bravo TV's The Real Housewives of New Jersey is a must. Every episode, viewers are treated to a weekly dose of family, drama, and wine wrapped neatly into a one-hour package. And while the group may jet off to Cabo and Oklahoma on the regular, real fans know that the life of a RHONJ isn't as far from Montclair as one may think. These major landmarks will take your RHONJ knowledge from a basic fan to a housewife-in-waiting. Read on for your guide to RHONJ's local landmarks in New Jersey.
The Brownstone | 351 West Broadway, Paterson
Party the Manzo way at The Brownstone in Paterson. Fans will recall The Brownstone as the setting for the tiff between the Manzos and Danielle Staub. Never forget when Staub arrived for a benefit at the venue and a table for her and her entourage was nowhere to be found.
Even the newest member of the Bravo Fan Club will know this as the infamous location of the Ashley Laurita vs. Danielle Staub showdown. After Teresa Guidice and Jacqueline Laurita chased Danielle out of Kim DePaola's fashion show, teenage Ashley tried to defend her mother and ripped out Danielle's extensions as she was trying to leave.
Fans will recall this upscale eatery as the venue for Melissa Gorga's birthday party in the Season 9 RHONJ premiere. Just off the Montclair-Boonton line Towaco stop, Rails Steakhouse combines atmosphere and sizzling cuts for a culinary experience of the ages. Mend friendships, meet new people, and celebrate milestones at the local establishment, just don't shove cake in anyone's face.
If you love Jennifer Aydin's lips, don't worry, we won't tell Margaret. Get the look at house-husband Bill's private practice. Dr. Aydin's office is located in Paramus for all your cosmetic procedures, from augmentations to fillers (and you just might catch a glimpse of the housewife dropping lunch off to her husband).
Pizza Love | 637 Wyckoff Avenue, Wyckoff
She may have started small in her own kitchen, but Kathy Wakile has taken her culinary talents to the big leagues at her own pizza joint, Pizza Love, in Wyckoff. While Teresa may be the star of the current show, at Pizza Love it's all about Kathy. After dinner, end the evening with cannolis, as only Kathy would.
Whether you're obsessed with her slim-fitting bodysuits or you want to get on her shoe-game level, Envy by Melissa Gorga brings together classic styles with modern trends to give every Jersey Girl a look they'll love. The Montclair boutique is right on Bloomfield Avenue and houses everything from a little black dress to the perfect pair of sunglasses to take you from day to night. And while you probably won't see Joe Gorga hanging out there anytime soon, you can hope for Mrs. Gorga to make an appearance every so often.
Lu Nello | 182 Stevens Avenue, Cedar Grove
There's never a bad time for Italian cuisine, but table flips will NOT be on the menu at this Cedar Grove restaurant. While Lu Nello may look like a quiet restaurant, it's hard to forget the iconic Teresa Guidice table flip that will live on for eternity in TV history. While the relaxing vibe may seem unexpected given the scene history of the place, if you listen closely, you can still hear echoes in the walls screaming, "…engaged nineteen times."
The Manor | 111 Prospect Avenue, West Orange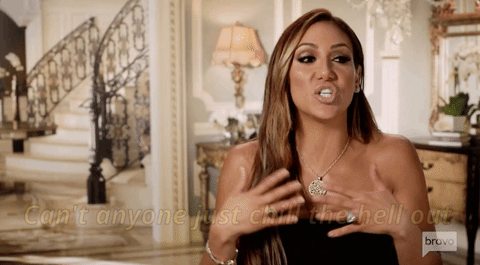 The introduction of Melissa and Joe Gorga into the show was certainly not without its obstacles, one of those being a christening brawl. You may recall Joe Gorga and Joe Guidice battling it out while their wives screamed — and Kathy Wakile tried to shuffle their children away from the full-on family quarrel. It's unlikely the event venue had ever seen such a massive fiasco, and doubtful they ever will again.
This classic Italian eatery in Montclair has been a hot spot for lunch with the housewives since season seven. Stop by for Italian and fare and you might spot one of them there!
The sons of Caroline Manzo and her husband Albert, partnered with The Berkeley Oceanfront Hotel in Asbury Park to revamp the indoor and outdoor space. Now, they run the food and beverage operations in the hotel, including the Blue Bar and poolside lounge, which features cabanas, a koi pond, and a balcony terrace with views of the Atlantic Ocean.
View this post on Instagram
This full-service salon is owned by Lauren Manzo and offers services in hair, makeup, eyelashes, and organic airbrush tans. Lauren herself works at the salon and is said to give a mean blowout!
Jenks Club | 300 Ocean Avenue, Point Pleasant Beach
In 2019, during a trip to Point Pleasant, the housewives grabbed a bite to eat at Jenks Club and explored the boardwalk afterward.
While not necessarily "on" the show's highlight reel, this local Italian favorite was actually co-owned by none other than Chris Manzo. Once in a while, you'll even see his OG RHONJ mama, Caroline Manzo, make an appearance.