Spring is when New Jersey looks its best — it is, after all, named the Garden State for a reason. And as the weather starts to improve and spring greets the region, there are a few ways to get outside and enjoy everything this season has to offer. Blooming tulips, flowering trees, and carpets of daffodils are just some of the highlights of our state's gardens. Read more about some of the best parks in our area and how to make New Jersey really feel like a garden state.
Greenwood Gardens | 274 Old Short Hills Road, Short Hills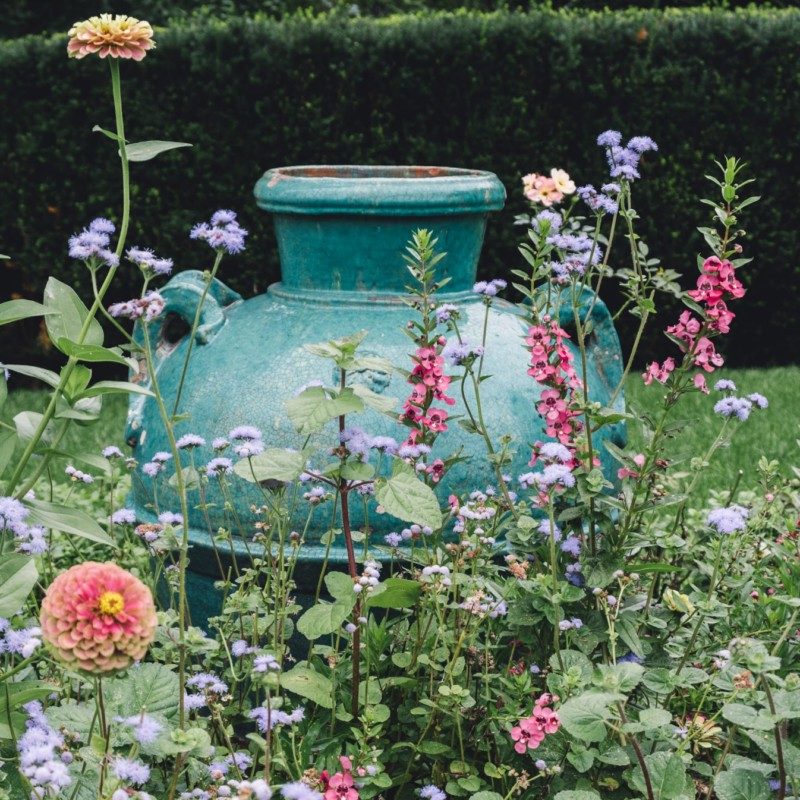 Tucked off a quiet street in Short Hills sits the exceptional Greenwood Gardens, a remnant of an old estate with the acreage to prove it. The serenity in this garden is twofold, both for its general solitude and lack of visitors and its division into several garden rooms. Enjoy sweeping landscapes of London plane trees, whimsical chess pieces ensconced in ferns, and walk through the garden's many well-kept paths.
Read More: Outdoor Spring Escapes in Essex County
In the center of Montclair is the old Van Vleck estate, a classical structure that now generously houses non-profit organizations and events. The grounds are open every day to the public and boast incredible azaleas, lush greenery, and the most spectacular wisteria blooms in the whole state. It is the perfect garden for a picnic and a tranquil walk, where one can simply admire what nature has to offer.
View this post on Instagram
The iris gardens might not be much to see in the off-season, but your eyes will enjoy a feast of color from mid-May to early June. Presby Iris Gardens is the world's most extensive specialty iris garden, complete with rare specimens and unique breeds that are only found here. Check the website for bloom updates so that you can plan a visit during 'peak bloom' and see why the flowers are named after the Greek word for rainbow.
New Jersey doesn't get enough credit for having its own botanical gardens, perhaps because it is located northern, in the upper reaches of the state. The gardens and manor house have an incredible array of volunteers who keep the grounds as magical as ever. The magnificent perennial garden showcases feature trees and shrubs, but there is much more to see. There is a lilac garden, as well as an Italianate garden, a wildflower garden, and an annual garden — so a visit anytime this spring will yield gorgeous flowers.
Just a short walk from most homes in Montclair is the Brookdale Park Rose Garden, an often overlooked area of our beloved Essex Park. Don't be fooled by its size, the rose garden here is exceptional. Over 500 healthy, full rose bushes are ripe for photography, while several nearby benches allow views of the flowers and wafts of pleasing fragrance.
Rutgers Gardens | 112 Log Cabin Road, North Brunswick Township
View this post on Instagram
Open all year round, Rutgers Gardens is one of the few botanical parks that has free admission. The collection of American Hollies is one of the largest in the United States, but it is just the tip of the flora iceberg. There are as many unique gardens as any other state-run botanical garden, with sun and shade plants, a bamboo grove, a succulent garden, and around 60 acres of woods for wandering.
View this post on Instagram
This Wayne-located public park is a favorite spot for locals. It was once a commercial nursery but is now maintained through a non-profit called Friends of Laurelwood Arboretum and the Township of Wayne. The garden is "30-acres of botanical oasis," specializing in native rhododendrons and azaleas, and shrubs that bloom in early spring.
The arboretum boasts nature and horse trails surrounding a Colonial Revival mansion and formal gardens. Perfect for a brisk hike, a horseman's cantor, or pedaling on bikes, the park preserves a wide variety of native and ornamental trees. Concerts are held on the grassy lawn in warm months like an old English estate.
The Reeves-Reed Arboretum is "dedicated to preserving the past and imagining the future of American gardening." The lush setting showcases a variety of gardens, including a unique rock garden that was installed around 1925. The Arboretum is well known for its outstanding events, including its popular and greatly anticipated daffodil lawn, which blooms for the four weeks of April.
View this post on Instagram
On the site of Morristown National Historical Park is the Cross Estate Gardens. Open from dawn to dusk and accessible to the public, the gardens are characteristic of the Arts and Crafts period. Stroll through a formal perennial garden, a mountain laurel allee, and marvel at their large specimen trees. The self-guided walk shares knowledge of the historic trees and their historical importance to Native Americans and early-American colonists.
Freeman Gardens | 644 Hawthorne Avenue, Glen Ridge
View this post on Instagram
Devoted volunteers maintain this petite rose garden. A short walk through this corner garden can become a much longer visit if you take time to soak in all the beauty these roses offer. This park is a beloved spot for family events, botanical photography, and respites from Zoom work calls.
View this post on Instagram
Hatched in the 1930s, the Leonard J. Buck Garden is one of the most splendid rock gardens on the east coast. Alpine and woodland gardens flourish on the 33-acre property, showcasing many natural outcroppings. Wildflowers dot the wooded trails that lead to a collection of exotic plants. This garden peaks in spring, so pack a snack and head over soon!
View this post on Instagram
With over 250,000 flowering bulbs and blooming trees, spring really shines at Sayen House and Garden. There are fish ponds, gazebos perfect for weddings, and even a yearly Azalea Festival during the blooming season.
View this post on Instagram
Here you'll find New Jersey's most comprehensive and longest-operating Arboretum, which is delightful from spring to fall. There are 130 acres of rolling farmland and 2,100 types of native and exotic plants. With formal gardens and an undisturbed forest, any tree lover will be right at home navigating the blooming branches.
Duke Farms | 1112 Dukes Pkwy W, Hillsborough
Duke Farms boasts over 1,000 acres of New Jersey land as the setting of its magnificent gardens and woodland. You can walk or bike this fantastic conservation area thanks to Doris Duke, an environmentalist, and plant lover. There are tropical orchids on display, a waterfall, and countless trails and ruins to wander through. Get lost on the property, and then find yourself at their cafe for an afternoon refreshment.
View this post on Instagram
Do we have bird sanctuaries in New Jersey? Surprisingly, yes! There are many nature lovers in this state, including the workers and volunteers at the Hartshorn Bird Sanctuary. Here, you can birdwatch and hike the property's miles of trails, all the while enjoying a diverse woodland that helps scientists further understand the relationship between people and our environment.
Truly a spectacular garden, the Grounds For Sculpture offers an amazing intersection between art and nature. With over 400 pieces in wood, bronze, stone, steel, and even paper, this sculpture museum and garden is an inspiration. Art comes to life through unexpected shapes in tree groves, dancing figures out of paintings, and abstract expressions in the gardens. However, nothing is quite as remarkable as the Monet Bridge, recreated in the likeness of Monet's famous painting, Bridge over a Pond of Water Lilies.
See More: This NJ Artist Highlights the Garden in Garden State
View this post on Instagram
This National Historic Landmark in the heart of Princeton was once the home of Richard Stockton, a signer of the Declaration of Independence. With art exhibits and a fantastic garden outside, it is a unique historical garden steeped in the early-American landscape. The beautiful garden wall is a highlight, likely erected during the 1850s to serve as a kitchen garden.